We have a beautiful new heifer calf, a brilliant new way to manage membership fees and we are now taking Beef Box orders.
New membership system

Thanks to the hard work of Basil Brooks (cheers dad!) we have set up the membership system on our website. This will save loads of admin and make paying membership fees easier for everyone. Big thanks to our brilliant new membership secretary, Jeanette Bayliss, who has volunteered to be on hand to oversee the new system and answer questions. She can be contacted at cowclubinfo @ gmail.com.

We are now asking everyone to sign up as a Cow Club member if you wish to keep receiving these emails. As a member you will be invited to come along to our events (to be announced soon) and be able to buy beef boxes, or get free mince and braising steak on the collection day. We will hold a summer barbeque and a 'meet the cows' day over the summer too.

The cost is now £50 per household as agreed at the AGM.

The membership is now set up to automatically renew after one year and a payment will be taken automatically. This means that once you join, you don't have to faff about every year. You'll be notified in advance of your membership renewing and will have a chance to cancel if for any reason you no longer want to be a member. If you don't join up we may send you a personal reminder to join, so if you definitely don't want to be a member then please reply to this email and we will remove you from the lists.

There is a separate page called 'Donations' on the website. This is for members and non members who want to donate extra for any reason (it's not how you pay your normal membership anymore). To be honest we aren't doing very well financially (as discussed at the AGM) so if you do feel that you'd like to make an additional donation then we'd gratefully accept it. If you feel you'd like to pay any of the membership fees missed for the last few years, then equally whatever you feel you'd like to give is brilliant.

In the future we will make the news section of the website and certain web resources available only to members by logging in on the website.

Help with Joining:

To become a member go to the Membership Page and click the link that says If you would like to become a member please follow this link to send us your details and make a secure online payment for the membership fee.

This should take you to the £50 Recurring Annual Membership option, click the subscribe button and you should be asked for your personal details, user name, name, email, password etc., and at the bottom there will be a form to enter your card details. You may be asked to authenticate the payment and then you should get an on screen confirmation and a welcome email.

Beef Boxes

Please place your beef box orders now by replying to this email if you have not already done so. Dave took the heifer that we decided would go for beef to slaughter and butchery on the 17th. The carcass will be hung for twenty days, so the beef will be ready for collection the week beginning 6th of February. We will let you know the exact day soon.

Please do join as a member on the website before ordering your Beef Box!

As usual the boxes are 5kg in total, with a mix of cuts from prime steak to rolled roasting joints (under 2kg), rib eye, mince and braising. We can also do half boxes.All members can get some mince or stewing steak for free by collecting on the day. As voted for at the AGM the price per box is very slightly higher than before to reflect rising costs and to try to generate more revenue.

PAYMENT: Please pay in advance by Bank Transfer, contact us for the account details.

5kg Box = £95.00
2.5kg Half Box = £55.00

(Boxes contain a full and balanced range of cuts and joints)

Alternatively, you can write a cheque and give it to us on the day, made payable to Lynchmere Community Grazing CIC.

The New Calf

Fantastic news that Dawn had her calf on the 6th of January in the barn.

She is a very healthy female (called a heifer calf) and she has a beautiful belt even though her mother Dawn doesn't. Dawn has been a fantastic mum and there haven't been any problems. We are going to keep both cow and calf in the barn just while the weather is really cold so that we can feed Dawn more than the other cows in the field.

We haven't named the calf yet, we will do so at our Summer meeting.

One of our cows 'Daisy', has been suffering from arthritis and can't keep up with the other cows anymore. She's quite old and so she is up at the barn keeping Dawn and the calf company. At some point we will sell her at market because she isn't suitable for going on the commons anymore.

The other cows will be going back out onto the commons soon. They have only been kept in because of the cold snap.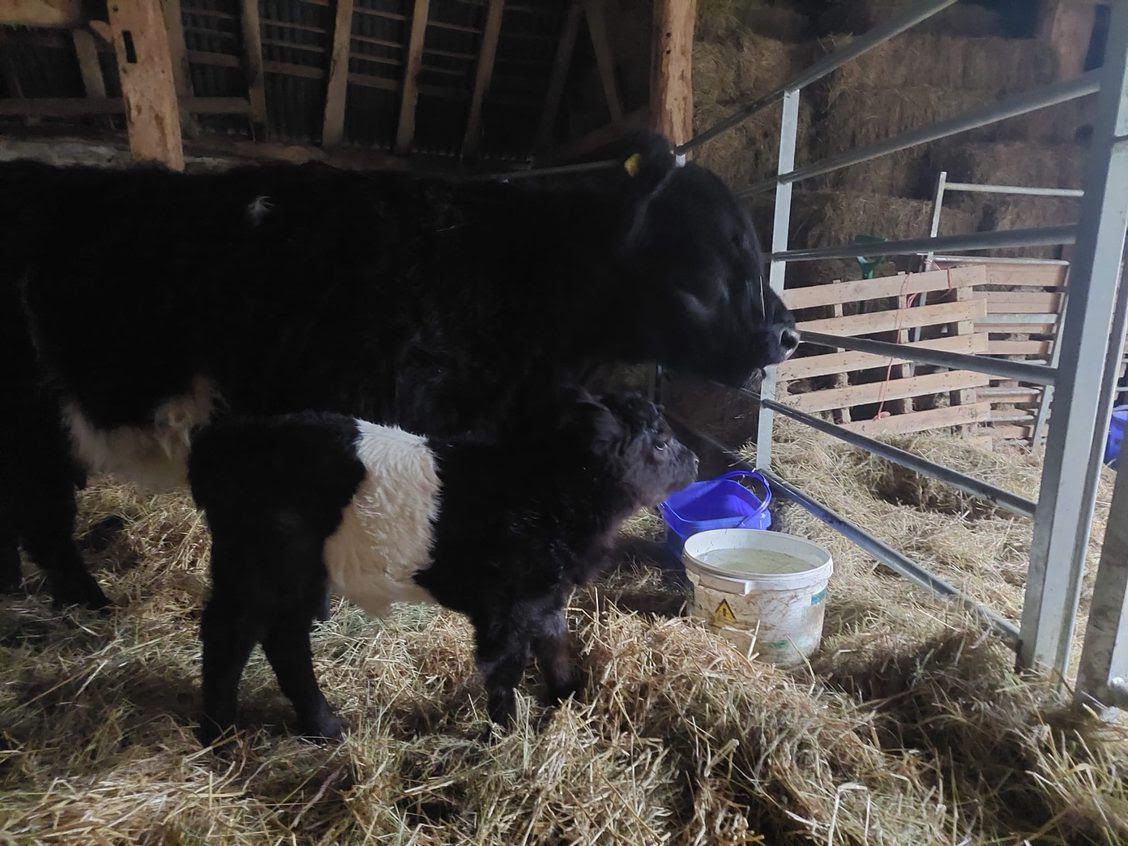 Many thanks everyone and Happy New Year

The Cow Club Team